GET GROWING WITH
OUR GARDEN CENTRES
Please check your local store for
availability and store hours.

Please check your local store for
availability and store hours.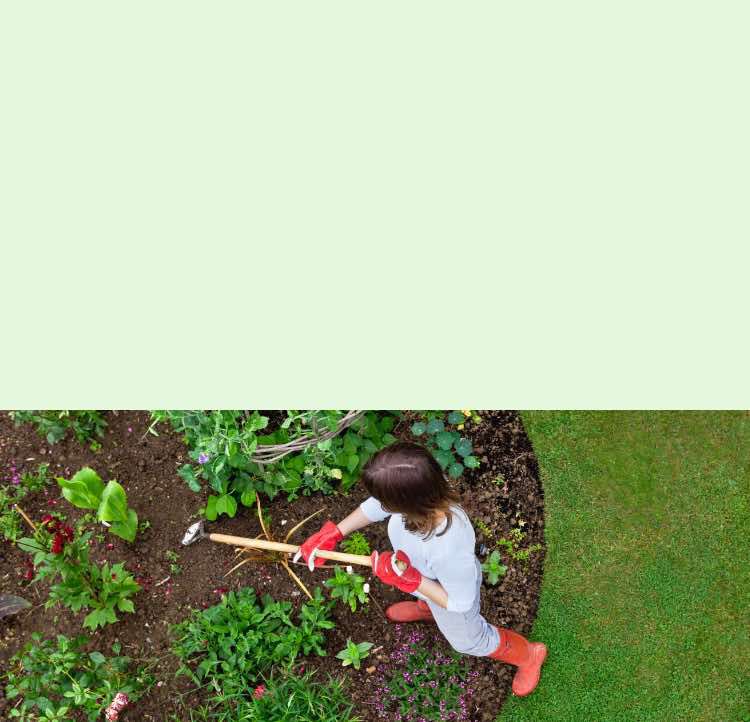 YOUR ONE-STOP GARDEN SHOP
From herbs and annuals to evergreens, trees and seeds, our Garden Centres have a broad selection of locally sourced plants. Find everything you need to get your garden off to a great start this season. Selections may vary by store.

YOUR ONE-STOP
GARDEN SHOP
From herbs and annuals to evergreens, trees and seeds, our Garden Centres have a broad selection of locally sourced plants. Find everything you need to get your garden off to a great start this season. Selections may vary by store.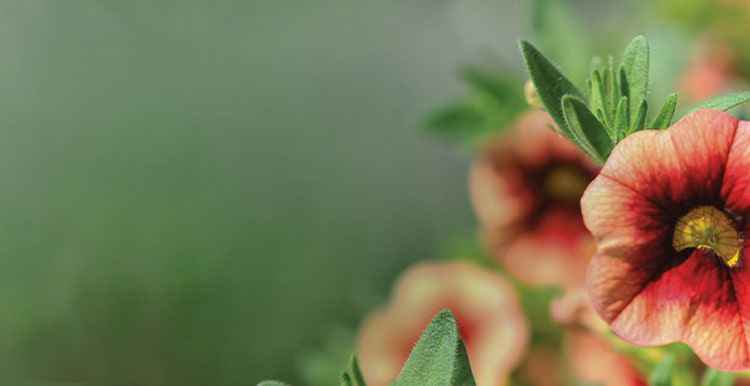 SHOP PLANT CARE & ACCESSORIES
GARDEN TIPS & INSPIRATION
Get all the tips and essentials you need to plan and grow a beautiful lawn and garden this season. Remember, you can always speak to one of our garden experts at a store near you for expertise and gardening advice.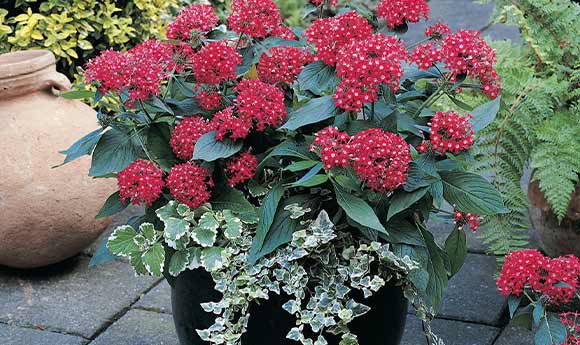 Don't have a lot of room but want to garden? Consider container gardening. Some very beautiful and productive gardens can be created in tiny spaces. Consider these tips when planning your small space.
● Understand your space. Keep sun exposure in mind when determining where you'd like to position your plants, pots or balcony boxes.
● Select plants that are manageable in your space and in scale with your container. Be wary of over-cluttering and concentrate on a few elements and stick to that theme.
● Create a vertical garden. Save space by growing your plants vertically with trellises, garden shelves, hanging boxes and more.
● Use good quality soil. Water regularly as soil dries quicker in small containers, and feed your plants with a good quality plant food.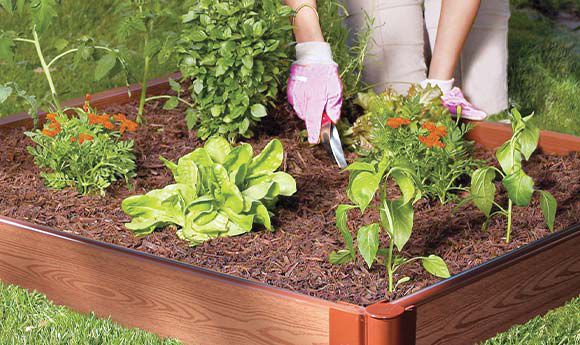 There's nothing fresher than vegetables from your own garden. No matter the size of your space, there are options available. Edible gardens can be planted in the ground, in raised beds and containers from seeds or starter plants.
●Determine the type, size and placement of your garden and keep in mind most fruit, vegetables and herbs require full sun – six or more hours of sunshine a day.
● Use good quality soil. If you are using containers or raised beds, use potting soil or container mix soil, ensuring your mix is weed free.
● Plan for the mature height of the plants, keeping lower plants at the front or edges to ensure they get sun exposure.
● Make watering easy and efficient. Consider soaker hoses and timers for in-ground plants. Water early in the day to reduce loss to evaporation.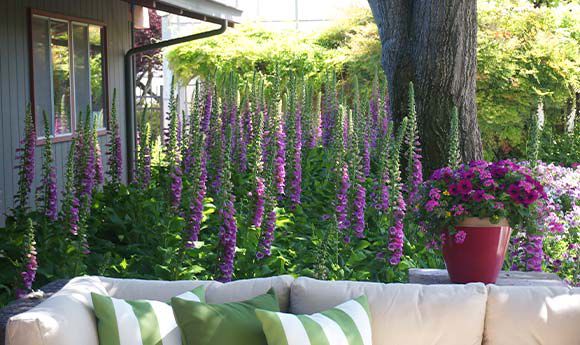 Add a pops of colour, visual interest and beauty to your outdoor space with an ornamental garden. Woody plants, perennials and annuals are great choices.
● Choose plants for their colourful flowers or foliage, texture or architectural form and select plants that work together to enhance your outdoor space throughout the season. Annuals bloom all spring and summer, while perennials provide year-over-year colour and texture, and woody plants such as trees and shrubs provide architectural form.
●Select plants that will grow in the conditions in your garden. This includes the amount of sunlight, as well as the plant hardiness zone for your region.
● Ensure you prepare the soil before planting by using a quality soil mix. Care for your plants throughout the season by feeding with the right kind of plant food.
● Consider adding ornaments, edging, landscape rocks or solar lights to add flair to your garden for dramatic impact.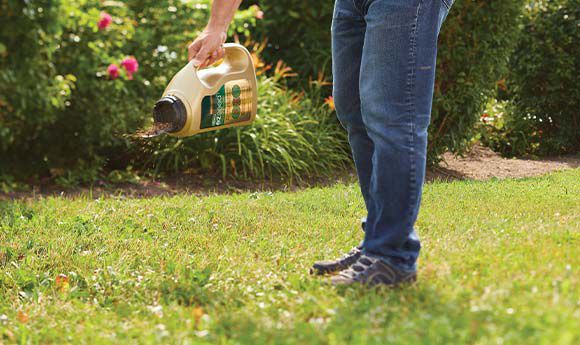 Grow thicker, greener grass and maintain a healthy lawn all season long with grass seeds, fertilizers and more.
● Prep your lawn in spring after the ground has thawed by raking up any debris, dead leaves and branches. Aerate the ground to allow water and nutrients from your fertilizer to reach the roots of the grass. Fertilize and overseed your lawn with the right type of grass seed according to sun exposure, rainfall and traffic.
●Discourage weed growth by nurturing a denser root system and denser growth. Use a weed-preventing fertilizer early in spring to stop weeds from germinating.
● Give your lawn the nourishment it needs throughout the season by fertilizing in late spring and autumn. Use a criss-cross pattern for even distribution.
●Mow your lawn when it is dry and external temperatures aren't too hot. Set your mower to cut the top 1/3 of the blades of grass, allowing the grass to focus its energy on establishing roots. It's best not to keep your lawn shorter than 2 ½" to 3 inches.
Tips for Planting Your Home Garden
Whether you have a small balcony or a big garden area, growing flowers, vegetable gardens or lush, green grass is easy when you have all the right essentials, tools, tips and ideas.
Plan Your Garden Type
Before you buy all the essentials you need for your garden, decide what type of garden you'd like to have and what fits with your space. A great idea is to map out your space to determine its size and light conditions, as well as the placement of any in-ground gardens,
planters
, raised plant beds or hanging baskets. Our Canadian Tire Garden Centres have a wide variety of trees, shrubs, annuals, and perennials to cater to your planting needs. Whether it is ready made planters and hanging baskets, colourful plants for your borders, herbs and vegetables for your edibles garden, or trees to provide shade and structure, we've got you covered. And we have all the tools, planters and accessories you might need to!
Choose the Right Soil & Fertilizer
The right soil and fertilizer are essential for keeping plants healthy all season long. Enrich your garden by mixing the right soil suited for what you are planting. For flowers, an
all-purpose blend
is a great option. If you're looking for
outdoor plant and garden food
for your vegetable garden stick to specific options that are safe for items you plan to eat. It's recommended that you feed your garden with fertilizer or plant food every two months for optimal health and growth.
Keep Your Plants Hydrated and Happy
Ensure you water your garden frequently, taking into consideration the general weather conditions in your area. In the height of summer, daily watering may be needed. Shop for
watering tools and essentials
that could make watering large areas easier and more efficient, such as a soaker hose, garden hose, sprinkler and timer. For pots and patio plants, a great watering can is perfect for directly giving each pot the right amount of water. Keep in mind that soil in smaller pots dry up quicker, so some of your plants may need to be watered more frequently than others.
Garden Tools
If you're going to plant vegetables and flowers, you'll need to prepare the soil. Invest in some basic essentials including
garden hand tools
, garden shovels, hoes, and rakes that help clear and break up the soil and get it ready for fertilization and planting. If you have a larger area it's great to have cultivators, like tillers for a more heavy-duty job. For easy dispersal of pesticides or weed repellents, a pressurized sprayer is a convenient tool that helps to distribute your liquid treatments evenly on your plants.
Landscaping & Garden Accessories
Give your garden more appeal with landscaping essentials like landscape rocks, decorative edging or fencing. Also, adding mulch not only adds appeal and colour to an area, but also helps keep moisture in the soil from drying up. Take things to the next level by
garden decor
like statues and ornaments, bird baths or a garden fountain that add a feeling of outdoor zen.
Keep the Grass Greener on Your Side
Keeping a healthy, lush green lawn during the spring/summer season takes a bit of care. With the right fertilizers, seeds and tools, growing and maintaining a beautiful lawn is easier than you think. Canadian Tire has all the essentials and lawn equipment you need including lawn mowers, grass trimmers and more to keep your lawn maintained the way you like it. When it comes to grass seeds, we've got all kinds to suit the specifications of your lawn. When choosing
fertilizers or seeds
identify things like weather conditions and traffic your grass is exposed to. Whether you have a lawn that is highly trafficked, in need of repair or is exposed to extreme weather conditions, the right grass seed or fertilizer will help you grow a green and healthy lawn.