How to choose a bathroom vanity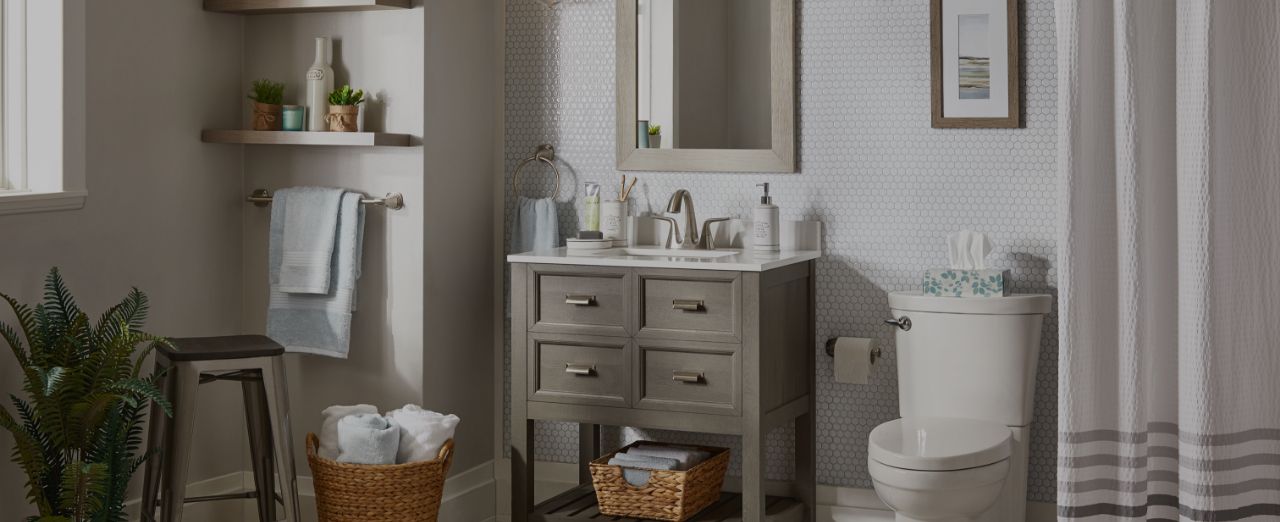 How to choose a bathroom vanity
Transform your bathroom by selecting the perfect vanity for yourself. Choose from various styles, colours, materials, sizes & configurations.
Size
Colour
STYLE
MATERIALS
DÉCOR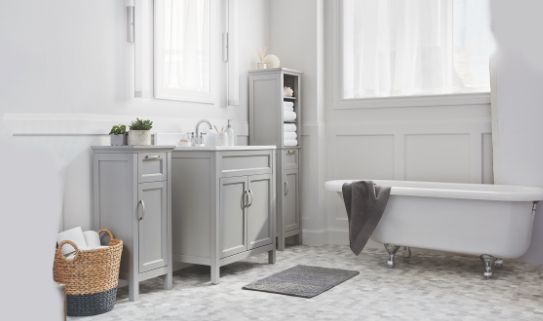 MEASURE YOUR SPACE
Always consider how much space you have, while choosing a bathroom vanity. Start by measuring the width and depth of your bathroom to determine the perfect vanity size. Keep in mind who will be using it, how much storage space is required and the plumbing location. It's imperative to leave sufficient room for door openings, trim and floor space. 

If you are re-doing your bathroom, remember to check if your existing bathroom floor continues under your current vanity before deciding on the size and style of your new vanity.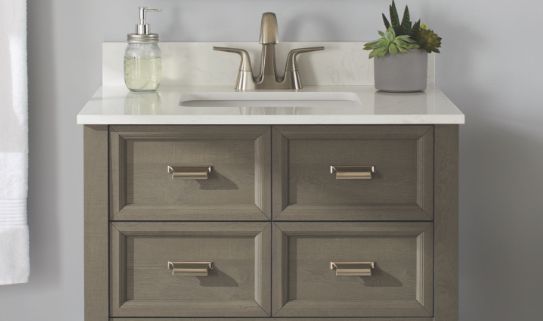 VANITY WIDTH
Vanities come in a variety of sizes with the most common widths being 24", 30", 36", 48", 60" and 72". A 24" vanity is perfect for a powder room or guest bathroom with limited space while a 48" vanity may be suitable for a medium-sized bathroom. For a larger master bath, a 60" or 72" vanity would be ideal to give you plenty of room and storage space.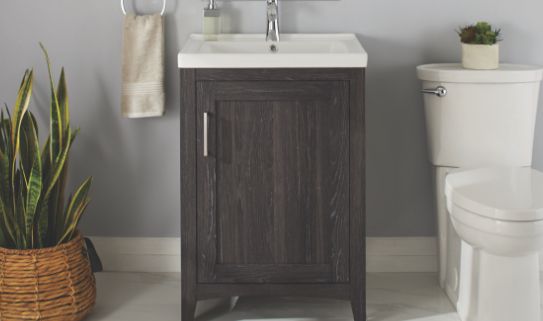 VANITY HEIGHT
Vanity height is an important measurement to consider when thinking of comfort. Consider who will be using the bathroom and what height they would find the most comfortable. Traditionally, the standard bathroom vanity height is 32", but modern trends suggest 36" vanities to be the comfort height. The bottom line is – vanity height comes down to personal preference so choose the height that you will find the most comfortable.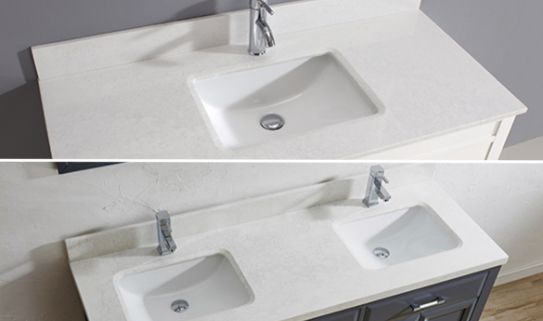 SINGLE VS DOUBLE VANITIES
Choosing between a single or double vanity will largely depend on space. A single vanity holds one sink and is the most common for smaller bathrooms while double sink vanities hold two sinks and are best for master suites or shared bathrooms. 

Keep in mind that two sinks may not always be better than one. While double sink vanities come with more counter and storage space, they leave you with less floor space than a single sink vanity. 

COLOUR
The colour of your vanity can change the entire look and feel of your bathroom. A classic white vanity can be easily paired with a variety of bathroom décor to create a neutral or ambient look. Brown vanities that often come in rattan or wood finishes give a rustic and comfortable feel. Gray vanities can make your bathroom feel sophisticated and contemporary while navy blue vanities give a luxurious and stylish aura to your bathroom. Choose a colour that's in sync with your home décor and personal style!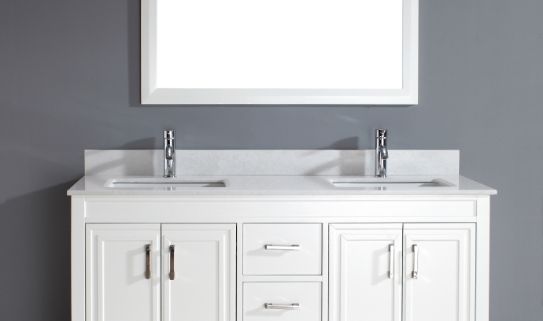 TRADITIONAL STYLES
These encompass classically sculpted drawers, scalloped edges, intricate hardware and subdued colours like white and brown.
CONTEMPORARY STYLES
Contemporary styles have a modern and clean look with straight lines and simple designs. These vanities come in a variety of colours often paired with aluminum or stainless-steel hardware.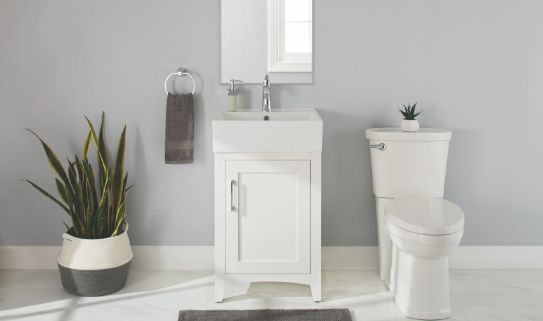 CLASSIC STYLES
These are usually more functional than decorative and they come in neutral colours like white or grey. These vanities are perfect for those who like to keep their bathroom simple yet practical.
RUSTIC STYLES
Rustic styles give a warm, natural and organic ambiance to your bathroom. It is often achieved with wooden materials and stained finishes.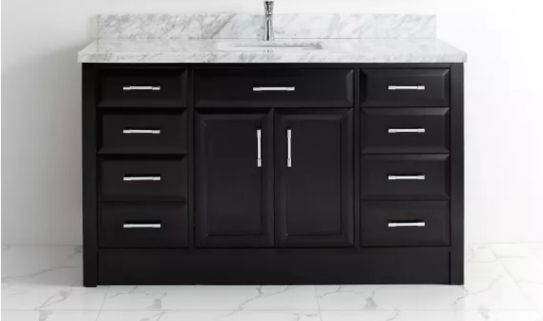 SOLID WOOD FINISH
Solid wood vanities are 100% natural wood and comprises of various hardwoods. Solid wood provides strength and durability while giving a beautiful natural and stained finish that can elevate any bathroom.
MDF/ENGINEERED WOOD
Medium Density Fiberboard (MDF) is an engineered wood that comprises of wood fibres made from hardwood or softwood pieces mixed with wax and resin adhesives. These vanities are denser, stronger and more budget friendly.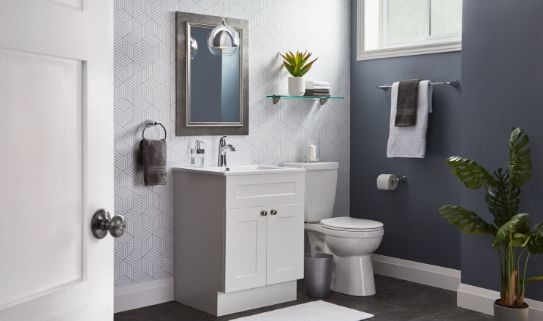 LAMINATED FINISH
Laminated vanities have a synthetic finish that is durable, affordable and easy to care for. Most laminated vanities can also be painted over with the correct preparation which allows you to save money and give your vanity a new life, if you decide to refurbish your bathroom.